On October 13, 2017, Metafluidics was awarded the Madri+d prize for the most innovative EU project in Madrid.

The madri+d prizes are an initiative from the Comunidad de Madrid, which, through the madri+d Foundation, aims to acknowledge researchers and business people in the Madrid region. It promotes high-technology business creation and successful knowledge transfer, as well as encourages international cooperation and scientific result communication by research teams around Madrid.
The jury awarded the "madri+d prize of Best European Project in Cooperation" to the MetaFluidics team, coordinated by Dr. Aurelio Hidalgo Huertas from the Universidad Autónoma de Madrid. The prize recognizes the ability of the consortium to carry out such a large-scale project as part of the Industrial Leadership pillar of the European Horizon 2020 programme, with large industrial involvement and various fields of application. The prize rewards MetaFluidics with €10,000 and a €5,000-worth patentability analysis of the project's results by PONS Intellectual Property.
This prize is a huge achievement for the MetaFluidics consortium and represents invaluable support for the project!!
Congratulations to all the MetaFluidics team!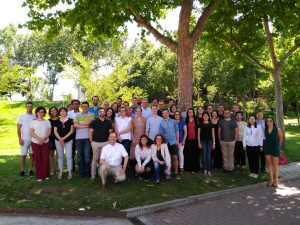 For more information (in Spanish):
http://www.madrimasd.org/notiweb/noticias/los-xii-premios-madrid-galardonan-los-proyectos-mas-innovadores-comunidad-madrid